Sri Parasurameswara Swamy Devasthanam
A Gudimallam village about 30 kms from Tirupati in the Tirupati - Sri kalahasti route near to PapaNaidupeta, has got great prominence because it has a beautiful Shiva Temple, which is popularly known as "the Parasurameswara Temple." This is considered as the oldest Shiva temple identified so far tracing to 3rd century BC. The Lord here is known as Parasurameshwara, and this lingam is believed to depict the trinity. The legend of the temple connects it to Parasurama, an avatar (incarnation) of Lord Vishnu.
Renowned for its earliest extant sivalinga in India datable to second/third centuries B. C. the main temple consists an apsidal shrine in lower level with Ardha Mandapam and mahamandapam in front, all facing east and each higher than the previous one. The Main entrance to the shrine is, however from the south side of Maha mandala when the walled enclosure is added by an ornamental pillared porch (dwarapala).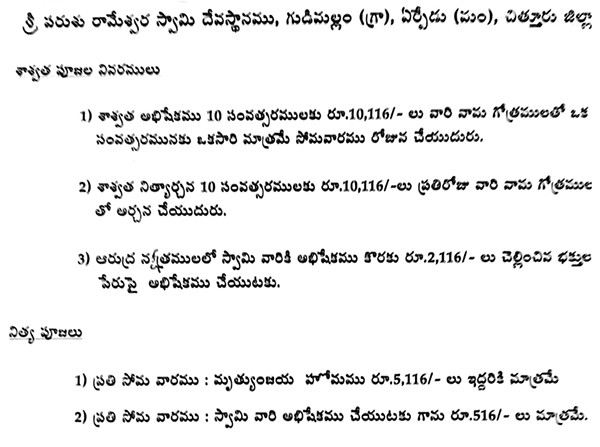 Call Us :
Ramachandra Reddy E O
+91 90004 88529
Gudimallam Temple distance
Tirupati - 28 Km
Chennai -148 km
Nellore-130 km
Vellore- 138 km